I'm WAY behind schedule in publishing this first post about custom cloth covered iPad cases from Zazzle, but I hope this overview of the Powis iCase case for your iPad Mini will be helpful to you.
There are all types of cool iPad cases out there that you can buy online; there's metal, hard plastic, leather and more. But what choices do you have if you want to buy a nice fabric covered book cover style case for your Apple iPad?
As I mentioned near the end of my
10 Eye Catching iPad Case Covers
post, Zazzle offers a few cloth book cover styled cases for the iPad (
2nd, 3rd
and
4th gen models
), iPad Air & iPad Mini/ iPad Mini with Retina display that you can customize and/or personalize. So in today's post, we're going to take a look at the Powis iCase brand premium cloth covered case for the iPad Mini. We're also going to look at some surprising advantages that Zazzle offers iCase case buyers over Powis itself and one of my own custom Powis iCase iPad Mini case designs.
Powis iCase for iPad Mini case
Do you remember those hard cover textbooks you carried around in high school?
Powis iCase
offers a durable, premium hard cover cloth iPad Mini case with a glossy laminate finish that will remind you of your old textbooks, only much nicer.
Check out this brief YouTube and you'll see what I mean ....
An overview of the Powis iCase case
Each Powis iCase iPad Mini case cover is made from 100% recycled hardboard, weighs less than a 1/2 lb., has non-slip edges that make it easier to use free standing in landscape mode, can be used in multiple positions, features grips that securely hold your Mini in place, gives you full access to your iPad's camera + ports without having to remove it and an elastic hand strap to securely hold it in your hand. It's 8.13 inches long, 5.75 inches wide, 0.75 inches thick and weighs 0.45 lbs. Prices start at $59.95 on the Powis website.
I sell my own custom Powis iCase iPad case cover designs on my Zazzle store and my opinion may be a bit biased. So I recommend that you check out this full review Lex Friedman wrote for Macworld earlier this year. Here's the link:
Macworld iCase Mini review
.
Why buy your Powis iCase iPad Mini case from Zazzle?
The Powis iCase website offers a variety of pre-made case covers that come in different styles, patterns and in leather too that you can personalize. But Zazzle has partnered up with Powis to offer custom iCase cases to their customers.
At this point you may be asking yourself
why should I buy a Powis iCase iPad Mini case from Zazzle instead of buying one directly from Powis
? To help you answer that question, here are 6 reasons why you should buy your Mini case from Zazzle:
Zazzle offers a greater variety of pre-made Powis iCase iPad Mini cases than Powis Parker offers on its own website (Zazzle has more than 90 thousand of these cases for sale in their marketplace).
Zazzle gives you the option to customize and/or personalize cases with your own photography, artwork or text to make your very own iPad case cover design.
With Zazzle you can easily change the form factor for the iPad model you have right from the product design detail page.
Zazzle's Powis iCase cases are designed to fit both the Mini or the Mini with Retina display.
Zazzle gives you the option to buy the case cover with or without a kickstand.
Zazzle offers better pricing! It might be hard to wrap your mind around how that's possible, but it's true. Zazzle markets cases created by individual storekeepers who set their own prices based on the perceived value of their respective designs. They can range from around $42.95 on the low end to well over $100 on the high end. As I mentioned earlier, prices on the Powis website starts at $59.95.
From what you've just read, it should be pretty clear that Zazzle offers you more options at a better price point, but don't take my word for it ... go check it out for yourself. In the meantime, if you would like to see a custom Powis iCase for the iPad Mini from Zazzle, check out this one:
Prowling Tiger Powis iCase iPad Mini Case
This
Prowling Tiger Watching case design
is the latest for the Powis iCase brand posted on my iCandy58Designs store on Zazzle. It's designed to fit both the iPad Mini and the iPad Mini with Retina display. Priced at $47.95, it doesn't come with a kickstand (however, you have the option to add one for an additional charge), but as I mentioned in No. 2. above, it can be customized and/or personalized to create a case cover that is uniquely your own,
which means no one else will have the same Mini case you have unless you post it for sale
.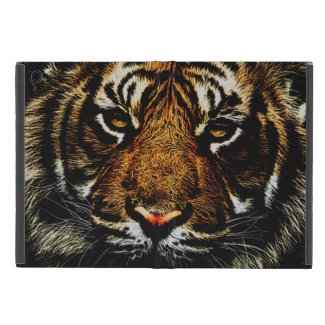 I love this tiger iPad Mini case design, because it's a real eye-catcher! It makes a perfect gift for anyone who loves tigers or big cats! What if you love this case too, but need one that fits an iPad Air? Don't sweat it! Just page up and change the form factor (to the right of the product image on the product detail page) by selecting iPad Air and you're good to go. The title and product details will change to reflect the new form factor.
So what do you think about the Powis iCase iPad Mini case? Does it fit your style or do you want to check out some other premium cloth covered iPad cases? If you want to see more fabric covered book cover style cases, be on the lookout for my follow up post on custom iPad Air DODOcase cases from Zazzle.